Recent goings-on
[8/5/20] A new preprint has been posted to the Open Science Foundation detailing our CogMedia project. This paper gives some theoretical backdrop for the project, along with detailed examples of possible applications of this data set, which includes hundreds of thousands of news headlines along with applied NLP tools for connecting cognitive measures to news media production and consumption. Click here to see this preprint.
---
[7/20/20] Undergraduate researcher Jason Luna has prepared our CogMedia research presentation for the Annual Meeting of the Cognitive Science Society, held virtually this year (official presentation date: 7/31). You can see a summary of this preliminary project in which we predict how fast news headlines spread online by using mental processing indices (specifically, how easy it is for the mind to process a news headline). Click here to see the presentation.
---
[3/18/20] The Co-Mind Lab has adapted its CogMedia project to serve as a central informational resource on media coverage of COVID-19 matters. Our "big-data" resource contains hundreds of thousands of articles, and updates throughout the day. This new resource filters crisis-relevant information and presents it in an organized manner so that students and the broader public can gain a bird's-eye view of ongoing coverage. Click here to see this page.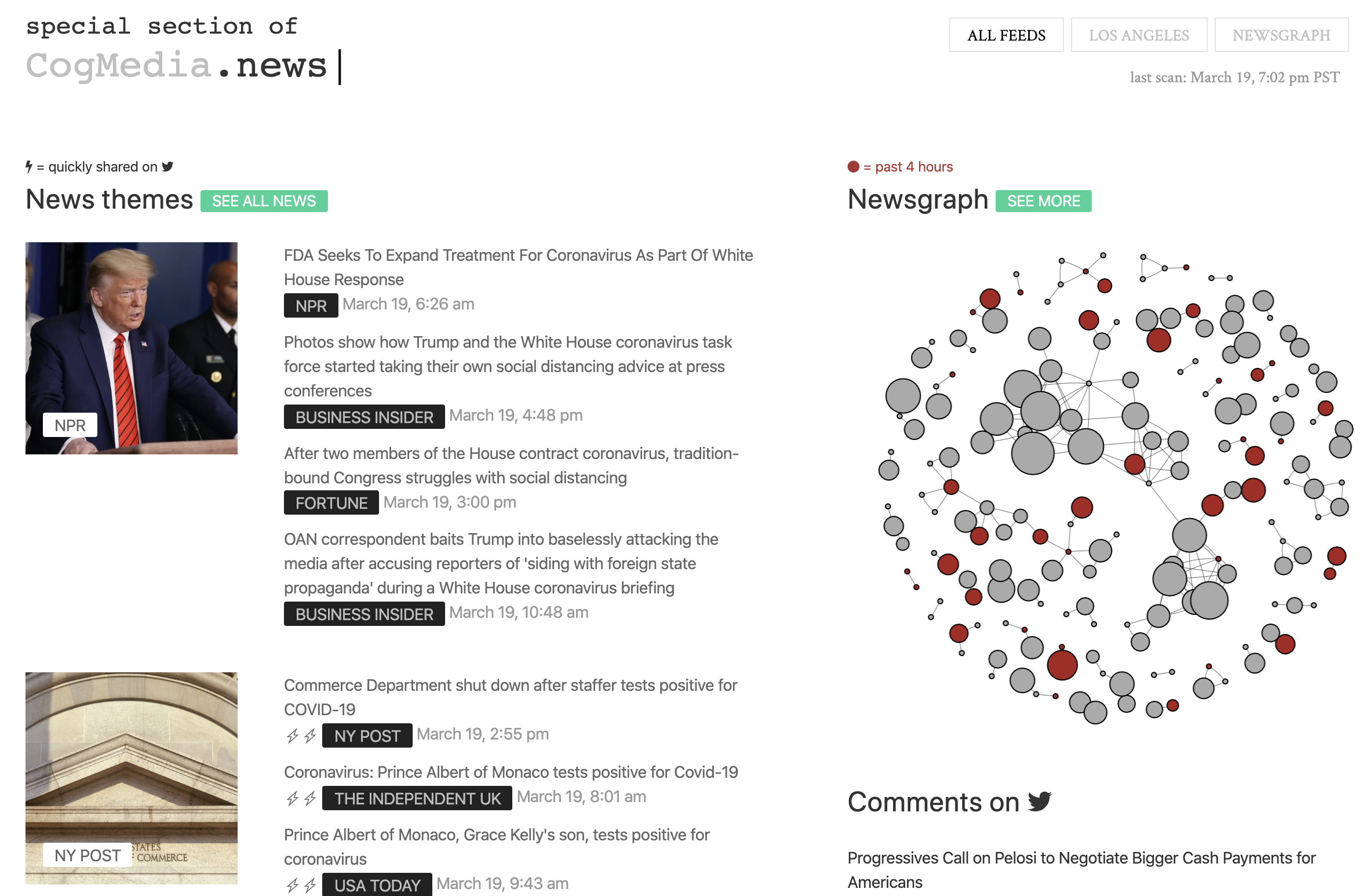 ---
[2/28/20] Rick gave a keynote presentation at the Scarborough Undergraduate Linguistics Conference (SULC), and also served as a judge for the conference's best student presentations. Scarborough Campus of the University of Toronto is where Rick attended as an undergraduate. It was fun to spend time with students and present on both research and career matters, especially on the topic of the cognitive science of language.
---
[11/14/19] Rick gave a plenary presentation in the President's Symposium of the annual meeting of the Society for Computation in Psychology. He summarized our various strands of research over the years, illustrating that the core of human language involves constraints from the cognitive and social domains, quite unlike what might be expected from a theory that sees language as an abstract and encapsulated module of our mind.
---
[10/30/19] Rick contributed to the #time4action Digital Features Section of the Psychonomic Society: Action in focus for an integrative approach to the mind. There I argued that psychological researchers "remind us of the importance of carefully parameterized experiments for isolating what underlies integrative properties of several behaviors and processes: gesture, motor cognition, memory and language. Importantly, in these designs, actions either perceived or produced, are the windows onto this integrative system."
---
[10/1/19] We participated in a meta-analysis led by Martin Schoemann and Stefan Scherbaum at Technische Universitaet Dresden, entitled "Using mouse cursor tracking to investigate online cognition: Preserving methodological ingenuity while moving towards reproducible science." You can read it here. Our lab has often used dynamic measures of language and communication by tracking how people make decisions using the computer mouse. When participants use a computer to communicate, for example, they often move their computer mouse around when interpreting or making decisions about language or other domains. Despite seeming so simple and common, this mouse movement is actually a detailed signal of mental processing, and it can shed light on how these communications are unfolding (either how they are being interpreted, or generated, by a human mind). In this meta-analysis, we discuss what are useful standards for reporting these experiments so this measurement approach can yield the most scientific value. For some background, we have a fun review of the literature from a few years ago, which you can read here (led by Jon Freeman).
---
[8/1/19] I'll be presenting at the Society for Chaos Theory in Psychology & Life Sciences 29th Annual International Conference at Chapman University. The title of my talk is "The Integrated Dynamics of Natural Language Performance," and I'll be summarizing work from our lab and other labs on how we can expand our understanding of the underlying dynamics of human interaction.

3 kinds of "coordination"

In the presentation, I highlighted three ways in which "coordination" can be construed based on an integration of our work. The first, and perhaps the most studied, is the sometimes weak but relatively widespread "hum" of local coordination -- sometimes known as "synchrony." We recently demonstrated another form of coordination, in which interlocutors exhibit a more "global" temporal coordination, called complexity matching. In complexity matching, interlocutors tend to exhibit similar fluctuations -- which may be loosely called "cadence" or "rhythm." Complexity matching need not involve immediate synchrony, but can span across several minutes. Another kind of coordination we have studied is the manner or distribution of events in interaction. We recently showed that many interactive behaviors are more "bursty" than rhythmic, suggesting that different nonlinear models, beyond coupled oscillators, may be needed to understand these behaviors.
---
[7/20/19] I contributed to a recent Digital Features section of the Psychonomic Society, on the topic of big data. I summarize some work from others that highlights the need for more theory to help shape our approach to big data and research practices: big theory? After more thought, and reconsidering the cool "big experiments" idea of Gureckis and Griffiths, this figure appeared in a dream. I wish I'd discussed something like this to my own commentary.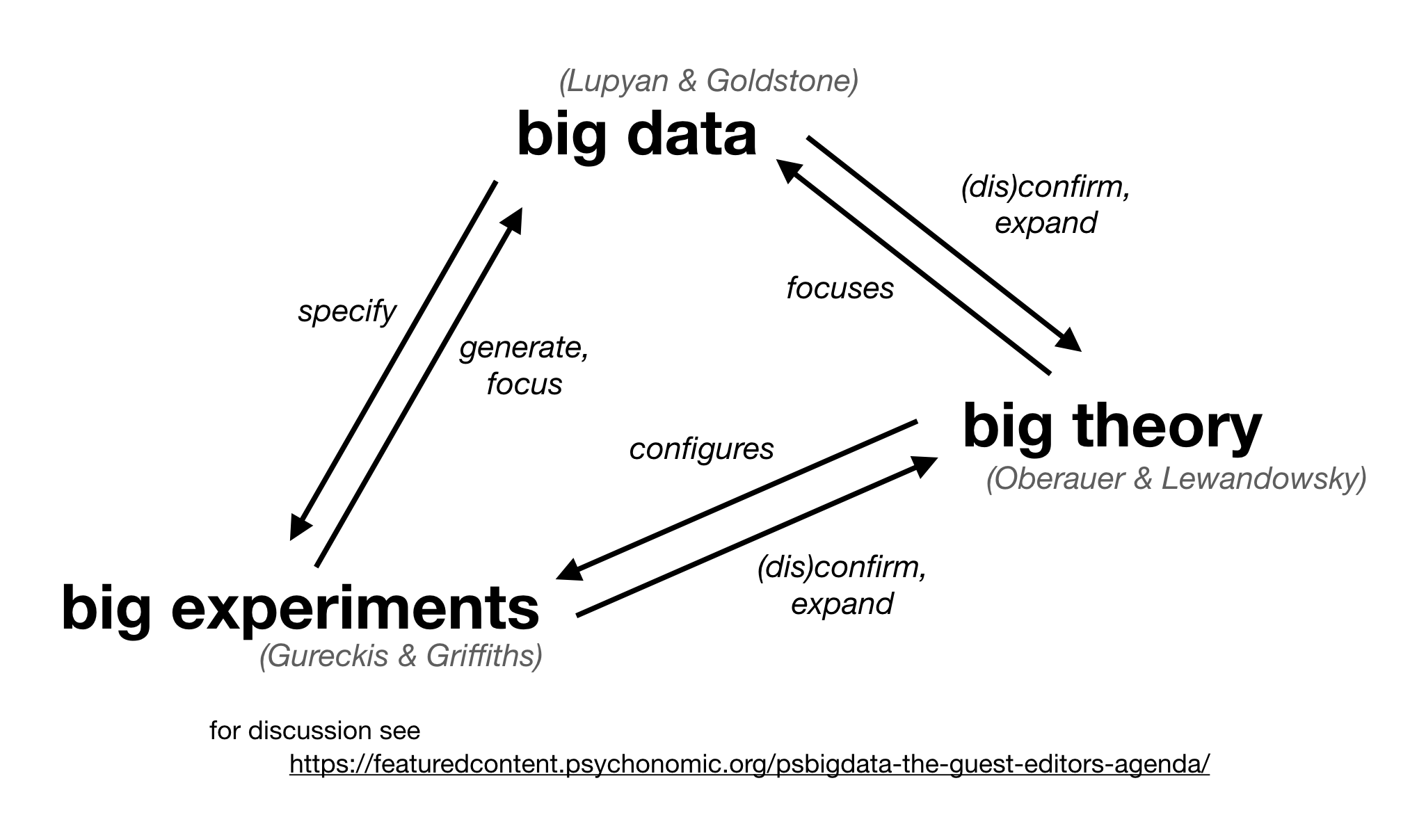 In some ways, cognitive science has been steeped in grand theory, the conflict among many paradigms (see an oldie but goodie here?). My commentary focuses on ideas from Oberauer and Lewandowsky, sharpening the concept of theory and how studies and data should be tightly tethered to it.
---
[5/1/19] To illustrate principles of computer modeling and communication, we created a chatbot authoring tool for use in undergraduate class COMM 131: Computer Models of Communicators. Students are able to build fully functioning and deployable chatbots (deployable on Discord!). The system helps students understand expert rule systems, their design, and how to test them with users. The class also includes discussion of neural network approaches to language, and we also explored a simplified neural network conversational bot which you can read about here.
---
[4/15/19] In a new SCTPLS newsletter article, I summarize the recent paper with my collaborator Harish Bhat on using data science techniques to recover, from raw data, precise governing equations for dynamical systems (in the form of ordinary differential equations). We illustrate it on model systems here, including socio-cognitive systems -- where the governing equations may reveal couplings between agents. Code on GitHub and library now available on CRAN.
---
[3/5/19] In a project led by Ph.D. student Camila Alviar, we use freely available video of presentations as samples of temporally extended communication. Using automated analysis methods, we explore this performance as a kind of "socio-technical" system, analyzing voice, body movements, and slide changes as an integrated system. Now published at Cognitive Science. Code here.